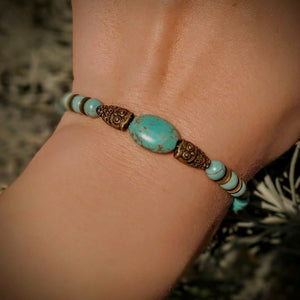 I love dyed magnesite because it looks like turquoise, but is affordable. Also, I think everyone should have something made with these owl beads, clearly.
 7 - 8 Inches Adjustable
 Magnesite - Dyed Base Metal - Antiqued Brass Finish
 Lobster Claw Clasp
Made in America by me.
🤓  Magnesite is often called white turquoise, but real turquoise is aluminum and copper. Magnesite is magnesium carbonate.