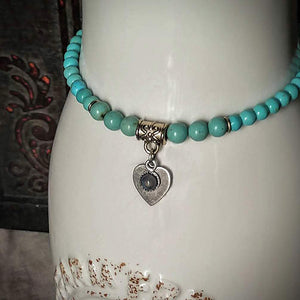 This sweet bracelet is made with dyed magnesite. (The affordable turquoise 😄)
That's a tiny 4mm moonstone cabochon on top of the tiny 10mm heart.
Magnesite -  4mm & 3mm beads

Moonstone - 4mm cabochon

Base Metal

Lobster Claw Clasp

7-8" Adjustable

Hand-made in the USA by me
🤓  Magnesite is often called white turquoise, but real turquoise is aluminum and copper. Magnesite is magnesium carbonate.