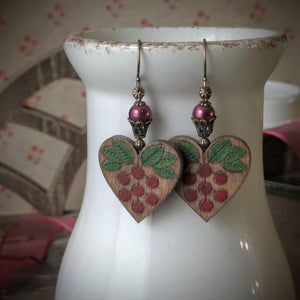 My chokecherry design is laser-etched on a 1" wooden heart, hand-painted by me and crowned by a glass pearl.
My little laser is cute, but unpredictable. I never know exactly how dark the design will burn but I pick two that are the closest match for each pair.
Check out my Apache plume and flower girl designs, too. Search "laser."
The chokecherry is a desert beautiful and desert tough tree. It also has over a dozen uses!
These little power berries were and still are used by native people. They can be eaten raw, or crushed and made into jelly or syrup. They can become a tart beef jerky when dried and mixed with fat and dried meat. They can be ground up and pressed into cakes and also can be fermented to make chokecherry wine.
 ☠️!! As useful as this beautiful shrubby tree is, it is also potentially dangerous! The bark, leaves and seeds are poisonous and should never just be eaten!
Laser-etched 1" Wood Heart
Glass Pearl
Base Metal Findings - Antique Brass Finish
Handmade by me in the USA
They hang 1.75" from your earring hole.
Weight - About the same as a penny coin 
Base Metal Ear Wires - (May irritate sensitive ears)