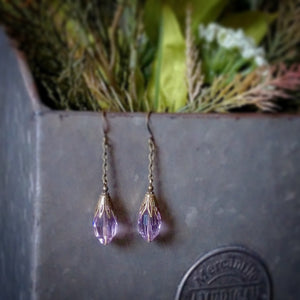 I was watching a movie about a small English town in the 1920s and fell in love with the long dangle earrings the ladies were wearing.  I can't even remember the name of it or who was in it. I just watched the earrings swaying.
Base Metal Ear Wires 
Faceted Glass
Base Metal Findings - Antique Brass Finish
Handmade by me in the USA
They hang 1.5" from your earring hole.
Weight - About the same as a nickel coin (.2 oz)
Base metal ear wires (may irritate sensitive ears).